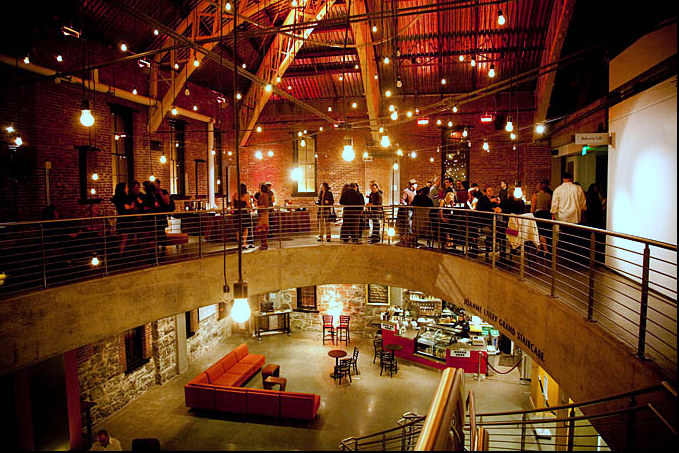 Oregon is beautiful state with a unique climate and picturesque mountains. There is plenty to do here in this coastal state. There are plenty of small rural towns, in addition to Portland, which has become known for its unique and eclectic culture. Perhaps this is why so many performing artists have been attracted to this remote state that is far away from the bustling star-filled communities of New York, LA, and London where so many people go to pursue their dreams. Even stars like SNL alum Fred Armisen and eclectic personality and rocker Courtney Love have called this place home. The unique culture has developed an innovative theatrical community. It is home to some great theaters that both visitors and residents of Oregon enjoy.
The Portland Center Stage at The Armory
The Armory is one of the largest theaters in Oregon. This modern contemporary theater offers a wide range of both touring and local theater to theater lovers of all ages. Visitors to the Center Stage can expect to see a wide variety of contemporary Broadway plays and Tony award winners alongside lesser-known but critically acclaimed works. Also newer plays that are just beginning to get attention on the national stage.
Hand 2 Mouth Theater
This small experimental theater is focused on creating original works since 2000. This talented group of performers has become known for their wild movements and outlandish, attention-catching costumes. In addition to their regular season of works, they also have created a number of touring productions that can bring the magic of theater around the state of Oregon. In 2017 they began their student voices program. This is a theatrical program and ensemble dedicated to introducing young people to the world of theater and artistic expression.
Portland Experimental Theater Ensemble
This experimental theater is based in Portland and is one of the favorites of the fringe festival season. The ensemble-based theater company is known for creating dynamic, hyper realistic theatrical works in an intimate space.
Enchanted Forest
While not strictly a "theatre", this unique amusement park is an immersive experience where many young Oregonians get their first taste of theater. Many of these same young people, now aspiring actors, get their first chance professional acting gig. In addition to the many attractions and rides that offer a chance for young people to interact with their favorite fairytale creatures and characters come to life, there is also a dedicated comedy theater. Full-length musical adaptations of everyone's favorite fairy tales are staged with a modern, comical twist.
In addition to these major theatres, Oregon also is home to a wide variety of mainstream and regional theaters. There's also small storefront theatres and theatrical festivals. Theatre lovers can watch actors interpret the Bard's immortal words under the stars. They can see master improvisers create scenes out of thin air, watch the world's greatest musicals, and just about any other kind of theatre that your heart and mind can imagine and desire. No matter your interest in theatre there is sure to be a show that you will enjoy.